The Keno Australasian Hospitality & Gaming Expo (AHG Expo) is coming!  We're locked and loaded in 2019 for Wednesday 27 & Thursday 28 March at the Brisbane Convention & Exhibition Centre and you DO NOT want to miss it!
See your stand options below:
STAND OPTIONS
Stands at the Keno AHG Expo are available in three formats – SHELL SCHEME or SPACE ONLY or POD
Shell Scheme
The shell scheme option is a walk on package. Each stand is 3m x 3m (9m2) and larger configurations are available by booking adjacent stands.
A shell scheme package includes;
white syma wall system

back wall 3m (L) x 2.5m (H)
side walls 2m (L) x 2.5m (H) and 1m (L) x 1m (H)

1 x fascia board with your company name and stand number per 9m2
1 x 300w spotlight/9m2
1 x 4amp power/ 9m2
carpet
2019 Investment: $4,385 + gst per stand (3m x 3m)
 Space Only
(minimum area 18m2)
The 'space only' option is a bare floor space without lighting, carpet or power and is ideal for larger exhibitors who wish to build their own stands or think outside the shell and do something creatively different.
2019 Investment: $373 + gst per sqm (18sqm min)
POD

SOLD OUT!!!
The POD option is a walk on package designed for service orientated suppliers, or those with limited physical product range to display. Each POD is 2m x 2m (4m2) and a limited number of these types of stands are available.
A POD package includes;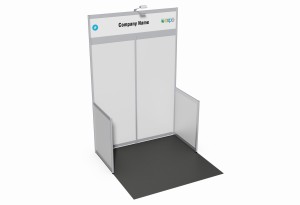 white syma wall system

back wall 2m (L) x 2.5m (H)
side walls 1m (L) x 1m (H)

1 x fascia board with your company name and stand number
1 x spotlight/4m2
1 x 4amp power/ 4m2
carpet
2019 Investment: $2,040 + gst per stand (2m x 2m)