While most of the hospitality industry struggled through the global COVID-19 pandemic, some alcohol producers say they came out stronger – but not necessarily because people were driven to drink.
According to industry insiders – all of whom were exhibitors at the 2022 MAX Australasian Hospitality and Gaming (AHG) Expo in March 2022 – consumers are reaching 'higher up the shelf' at the bottle shop and opting for quality over quantity post-COVID.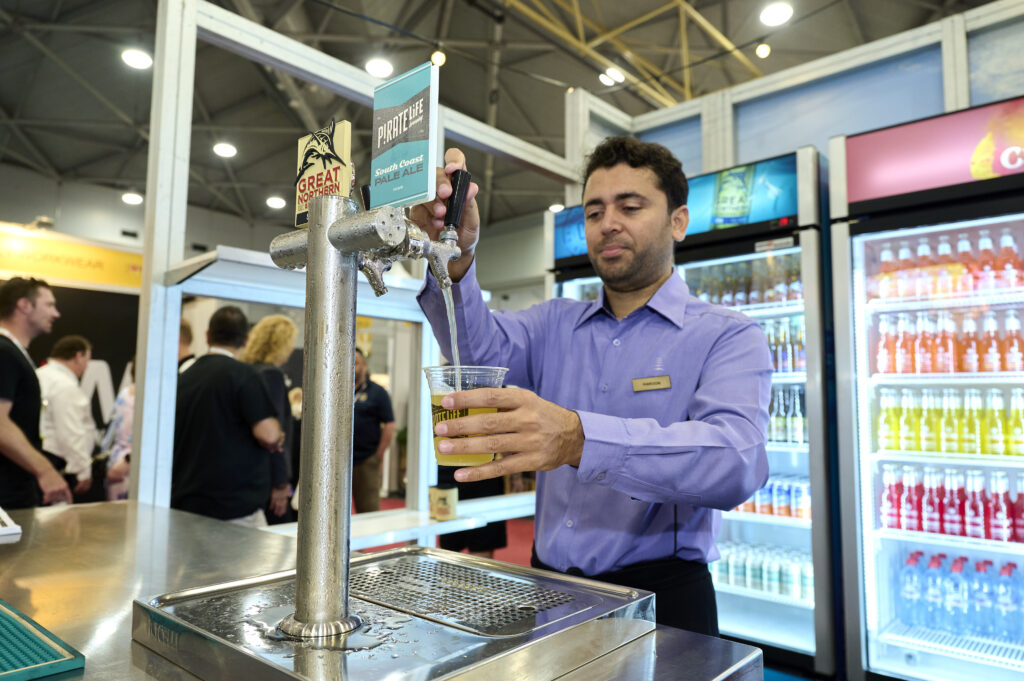 Cabe Power from independent craft brewery Young Henrys said he noticed consumers are willing to spend more and expected craft beer sales to trend upward as a result.
"We've definitely noticed that people are looking for quality over quantity," said Cabe. "During the pandemic we saw a spike in sales as people went from buying single bottles and six packs to whole cartons."
It was an unusual trend for craft beer. Though Cabe wasn't sure whether people drank more during the pandemic, they certainly became more conscious of what they were drinking – great news for Young Henrys and other indie brewers like Heads of Noosa.
"People are certainly happier to spend a bit more for quality if it's something they really like," said Heads of Noosa owner Craig Masterton. "Beers are an affordable luxury, especially in tough times – they can't buy a new car, but they're happy to spend $80 on a carton.
"What's interesting is that craft beer is on the rise, but alcohol consumption is coming down. A few years ago, a full-strength beer was 5% – now it's about 4.2% and mid-strength is the preference."
At Young Henrys, Cabe realised how many people are quite happy to give up the drink all together – even just for a month. "'Dry July' and 'Ocsober' were some of our worst performing months, and we love that. Responsible drinking is important to us."
It reflects the growing popularity of non-alcoholic beers; a trend Heads of Noosa has responded to in a big way.
"We're going to see the continued rise of non-alcoholic beers because it's what customers want," said Craig. "Dan Murphy's and BWS are already dedicating a lot of space to it because there's a financial incentive to do so.
"Overall, consumers are less focused on alcohol consumption – it seems that the goal nowadays is to actually enjoy the drink."
Isaac Burton and Eddie Carter from Mr Consistent agreed. At the start of the pandemic, Mr Consistent captured a market of people missing quality, mixologist-made cocktails while stuck at home. They can attribute some of their success to COVID-19 as a result.
"We launched a week before COVID, so we found out how flexible our business plan had to be from the start," he said. "We were primarily founded with a business-to-business model, but when venues started closing their doors, that quickly changed."
That may come as a surprise to Mr Consistent fans – their at-home cocktail mixes so naturally filled a gap in the market, and they were an overnight success. Even though venues are open now and fewer people are drinking at home, they aren't concerned.
"We're seeing the swing from at-home drinking back to going out, and people seem willing to spend a bit more money," said Eddie. "But venues are still short-staffed with fewer backpackers and ongoing COVID quarantines, and they're also facing ingredient shortages and issues with quality and consistency. Chatting to venue owners at the AHG Expo has confirmed that our product addresses those problems."
Looking ahead, Cabe, Isaac and Eddie all said that Ready to Drink (RTD) alcoholic beverages will be the next big trend as music festivals and concerts return.
"We know – or at least, we hope – that it's going to be a very big year for venues and live music so we're tweaking our offering and have just launched our mojito and margarita spritz cans," said Isaac.
Young Henrys has also moved into the RTD space, launching their own cans of gin and tonic in a bid to get into the hands of festivalgoers.
"We were getting drowned out by RTDs so we're excited to move into that space," said Cabe. "It means we can promote around live music, which has always been our wheelhouse. It's taken us two years to develop the product but chatting to people here at the AHG Expo, it's all anyone wants to know about. The feedback has been great."
The Mr Consistent team agreed that the AHG Expo has provided a valuable insight into upcoming trends.
"We're finding expos to be very helpful as we change our approach," said Eddie. "Even though we're all from hospitality backgrounds at Mr Consistent, it's useful to know that we can still relate to the struggles in the industry. The pandemic forced us to be flexible but being at the AHG Expo made us sure we're on the right track."